Devices such as switches, RCCBs etc. in distribution boards and consumer units may have historically had their rated current determined after having taken diversity into account but without having considered overload protection of the devices.
These devices do not provide protection against overload and the 18th Edition prescribes that overload protection of the switch or RCCB shall not solely be based on the use of diversity factors of the downstream circuits.
Methods of protection
We recommend one of the following methods of protection against overload:


Method 1
Ensure the sum of the rated current of the downstream MCBs do not exceed the rated current of the switch or RCCB (Inc). This method would however need to consider the consequences of any spare ways and later additions.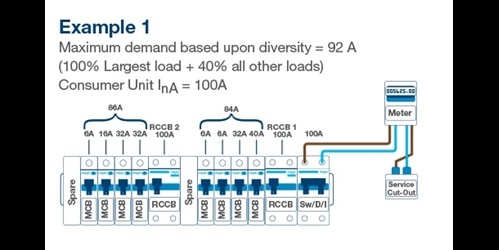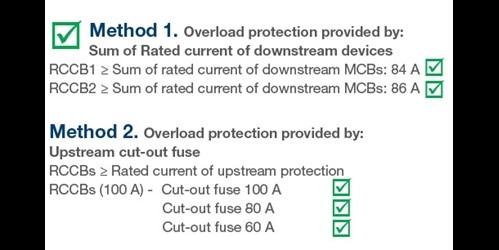 Summary:
A consumer unit with a rated current of 100A (InA), with two RCCB 100A (Inc) will allow the consumer unit to be installed in any single phase application up to 100A
Method 2
Ensure that the rated current of a switch or RCCB (Inc), stated by the assembly manufacturer, is not less than the rating of the upstream OCPD. For a domestic installation this could be a 100A cut-out fuse.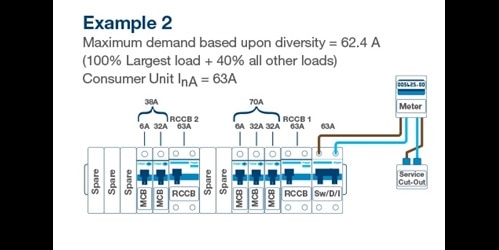 Note
Potential future loads on spare ways should be considered
Method 3
Select a consumer unit or distribution assembly that only utilises RCBOs on outgoing circuits. Consideration will still need to be given as to the rated current of the main switch.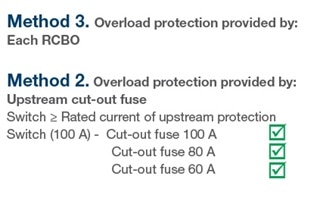 What the Regs say
536.4.3.2
"RCCBs & switches do not provide protection against overload, therefore they shall be protected by an overcurrent protective device."

536.4.202
" ... overload protection shall not solely be based on the use of diversity factors of the downstream circuits. To achieve overload protection of RCCBs or switches, the rated current of the overcurrent protection device (OCPD) shall be selected according to the manufacturers instructions".
Overload Protection Files  
Download our documentations below, containing everything you need to know about Overload Protection and the 18th Edition.

More from the 18th Edition
Surge Protection
A transient overvoltage or surge is a short duration increase in voltage measured between two or more conductors. In short this means anything from microseconds (millionths of a second) to a few milliseconds (thousandths of a second) in duration.
Selection of RCD Types
RCD's exist in various different forms and react differently depending on the presence of DC components or different frequencies.
Arc Fault Detection
Arc fault protection devices (AFDD) use microprocessors to identify characteristic current flow and voltage curves that indicate an arc fault and automatically trip the affected circuit.
BEAMA Guides
A collection of the latest guides relating to 18th Edition, Hager is proud to be a technical contributor to these guides which provide technical advice on a range of 18th Edition related topics.
Related Products
Check out our solutions below.