Aylesbury Centre
Aylesbury Centre received an electrical installation of a full Klik lighting control system in conjunction with main contractor Morgan Sindall plc and award winning electrical engineering Company, Darke & Taylor.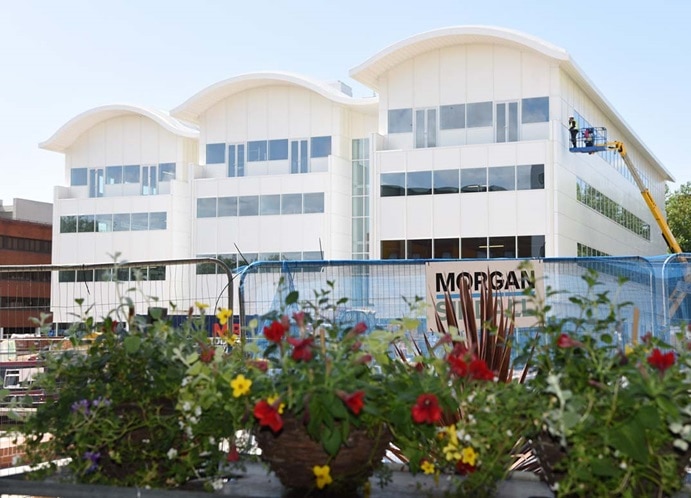 Aylesbury Centre | Lighting Connection & Control
Designing a dual-purpose space meant that flexibility and control were integral to every phase of Buckinghamshire's state-of-the-art facility. Principal contractor on the scheme Morgan Sindall plc is successfully delivering the scheme, which is due to complete in September. The company appointed Darke & Taylor to oversee all the mechanical and electrical installation on-site.
With recent European research* showing that a good lighting control system in education environments can have positive effects on performance, social behaviour and well-being, Darke & Taylor needed to ensure a controlled system that would optimise lighting while maintaining energy efficiency levels for the building. A solution was identified with our Klik lighting control module, their innovative lighting control system, thanks to the technical expertise that the manufacturer provided Darke & Taylor.
The Aylesbury Centre is a joint venture between Aylesbury College and Buckinghamshire New University, known as BEST. The areas available for rent and sale would only require a basic level of infrastructure while the college space needed a more intelligent approach to a lighting control system in order to fulfil the highly functional requirements of the educational space.
"We've always used Hager products due to their attention to detail and design."
Darke & Taylor engaged us a long-standing customer, was confident that we could provide a highly technical and consultative approach to the electrical specification. Working through the design stages the two companies were convinced early on that the Hager Klik LCM was the best solution.
Martin Davies from Darke & Taylor said: "We've always used Hager products due to their attention to detail and design. However, in such a significant contract as this, we needed to ensure that we were using a supplier that could also advise as part of a winning partnership. The specification stages are extremely important in any sector, not least in education. We were very impressed with what Klik lighting control module could offer this particular project and we are confident that it will deliver excellent longevity to this state-of-the-art college in Aylesbury."
For the Aylesbury Centre it is important that the educational spaces are designed for a variety of uses, the Klik LCM system allows the lighting system to be quickly and easily re-programmed dependent upon the requirements of the building's facilities. Additionally, the motion sensor is integral for the use of rooms where many students are likely to pass quickly in and out, such as the toilet areas. Our Klik LCM is programmed using Bluetooth through the KlikLink iPad app for ease of lighting set-up. A key selling point for Darke & Taylor was the simplicity in the functionality behind the system making it easy to install and commission, as well as use.
Products used in this case study
Get inspired and discover how you can use our product solutions in your next project.

Similar case studies
Enjoyed what you read? Check out some more of our other case studies to see how we were able to provide an ideal electrical solution.