Specifying Lighting Connection and Control
Ben Byram, Hager's Klik Key Account Manager goes into detail and provides valuable insight and tips on how to prepare a specification from the point of view of a lighting connection and control supplier.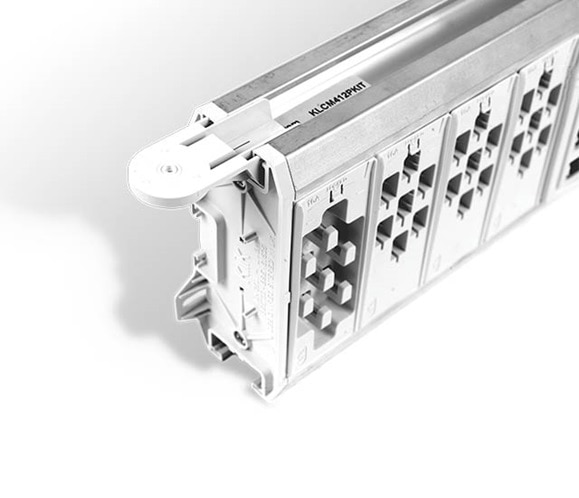 In­sights and Tips on Spe­cify­ing Light­ing Con­nec­tion and Con­trol
Over the years, most of the pro­ject spe­cific­a­tions we en­counter are clear and con­cise, however, in some cases, the types of lan­guage used can cause some con­fu­sion. This art­icle will look into ex­amples of those types of is­sues as well as provide some in­sight and tips on how to pre­pare a spe­cific­a­tion from the point of view of a light­ing con­nec­tion and con­trol sup­plier.

1. Daylight linking
This has proven to be the num­ber one source of con­fu­sion within spe­cific­a­tions. While it is an im­port­ant en­ergy-sav­ing fea­ture within a pro­ject it's the use of the word­ing that has caused is­sues in the past. It is im­port­ant to ap­pre­ci­ate is that there are in fact two dif­fer­ent meth­ods for day­light link­ing.


a) Daylight switching – This method is typ­ic­ally util­ised when stand­ard HF light­ing is used. This means that the light­ing will switch On and Off in con­junc­tion with the pho­to­cell con­trolling the light­ing if the LUX level is read­ing a pre-set level. We would ad­vise that when us­ing this method you also use a method of delay­ing the day­light switch­ing for 2 minutes as an ex­ample. By do­ing this, the pho­to­cell will only switch On or Off after the LUX read­ing is con­sist­ent for a set amount of time. This will pre­vent the light­ing from switch­ing on or off con­stantly, catch­ing people's at­ten­tion.

b) Daylight dimming – Used where dim­mable light­ing is needed this acts sim­ilar to the day­light switch­ing with the pho­to­cell however, the light­ing dims up and down ac­cord­ingly. Un­like the day­light switch­ing method, there would be no need to delay the dim­ming of the light­ing as the light­ing would dim gradu­ally without the oc­cu­pants really no­ti­cing, res­ult­ing in the main­ten­ance of con­cen­tra­tion levels.

2. Scene setting
A topic that you will of­ten see men­tioned within a spe­cific­a­tion is scene-set­ting in­side cer­tain areas of a build­ing. Within some areas, there's a genu­ine need to con­trol the light­ing with scenes, for ex­ample in a meet­ing room in­side an of­fice build­ing. In some cases, there will be a mis­judge­ment in the spe­cific­a­tion, where there will be a call for scene-set­ting in a small meet­ing room that has just 2 lu­min­aires. This is an ex­ample of where the light­ing could be con­trolled dif­fer­ently with the op­tion to manu­ally dim the light­ing up and down, al­low­ing for a more suf­fi­cient solu­tion given the area.
An­other area where scene-set­ting is used is within classrooms. There is a com­mon mis­con­cep­tion in re­la­tion to scene-set­ting, where for ex­ample, many people as­sume this is ap­plied within a typ­ical classroom where the teach­er's wall is switched in­de­pend­ently along with the whole room at the en­trance of the classroom. When in fact to achieve this light­ing ar­range­ment, mul­tiple chan­nel light­ing con­trol mod­ule (LCM) is used and the light­ing is man­aged with chan­nel con­trol.

3. Lighting connection system
Do you ever think about the im­pact that the light­ing con­nec­tion sys­tem can really have on your build­ing? Hav­ing a safe and ro­bust con­nec­tion sys­tem along with flex­ib­il­ity is im­per­at­ive to the over­all con­trol of your light­ing.
Tak­ing into ac­count the main­ten­ance of the light­ing we re­com­mend us­ing a sys­tem that is fully com­pli­ant to On­load con­nec­tion and dis­con­nec­tion as well as hav­ing an elec­tromech­an­ical con­nec­tion, which im­proves the safety of the sys­tem be­ing used. Not only does it re­duce the dis­rup­tion be­ing caused by hav­ing to isol­ate cir­cuitry but it also saves time for the main­ten­ance of the lu­min­aires as and when re­quired.

4. Timed profile switching
A key part of a pro­ject is to try to re­duce the en­ergy con­sump­tion where pos­sible, and the dif­fer­ent ele­ments of con­trol such as day­light dim­ming and con­trolling light­ing through oc­cu­pancy sensors goes a long way to help­ing this. However, you can take this concept a step fur­ther and im­ple­ment ad­di­tional re­duc­tions by us­ing timed pro­file switch­ing.
For ex­ample, you can have the light­ing work­ing at the same out­put throughout the day no mat­ter what time of the day it is, but by im­ple­ment­ing timed pro­file switch­ing more op­tions are avail­able to you. Be­low area couple of scen­arios that can be used:
a) 08:00 – 18:00 – You may have all areas on a 20-minute pres­ence/ab­sence de­tec­tion along with the day­light dim­ming etc

b) 18:00 – 08:00 – This is where some en­ergy could be saved should the build­ing be oc­cu­pied dur­ing these hours, and you could per­haps re­duce the de­tec­tion time down to only 5 minutes dur­ing these hours of the day. Quite of­ten dur­ing these hours, you would only have clean­ers or se­cur­ity within the build­ing and there­fore there would­n't be a call for the light­ing to stay on for so long without de­tec­tion.
18:00: 08:00 – As a second op­tion, you could set the sys­tem up so that only 50% of the light­ing is ac­tu­ally switched on dur­ing these hours of oc­cu­pancy, which of­fers a fur­ther re­duc­tion in the en­ergy con­sump­tion from the light­ing.
To speak to one of the team about your Klik Lighting Connection and Control requirements, click here to contact us.
Related case studies
Read about how our products were able to provide an ideal solution. 
Get inspired and discover how you can use our electrical installations in your next project.