Adding to user information
Adding your company and customer information to hagercad.pro will allow it automatically create personalised documentation using your company branding, and create tailored documents to display key information about your projects.
Accessing user information screen
To update personal details you will need to be in the main project explorer page, which is where you will find your list of projects, and then select User Information option in the Tools menu tab.

Adding your company details
By default, the User Data section will open on the company details screen. Here you can add your company's address, logo and colleague information.
The logo field accepts images in png, jpeg, bmp or gif formats, and should be no larger than 350 x 120 pixels.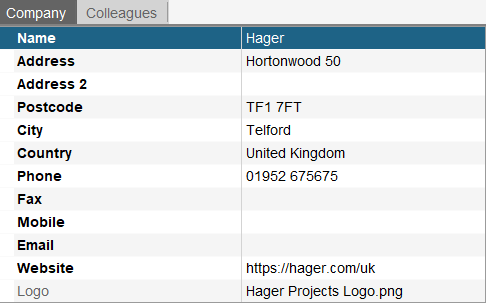 Adding your customer and partner information
The Partner section of hagercad.pro has the facility to add information about your customers and partners. To create new records, follow these steps:
1. Select the Partner option in the left-hand menu
2. In the list box, select the company type you want to create from the list of available options. Company type options are:
Designer
Wholesale Group
Panel builder
Contractor
Customer
Wholesaler.
3. Press the new button in the ribbon menu open a new record and enter company information in the available fields

4. When you have finished, press save in the top left of the window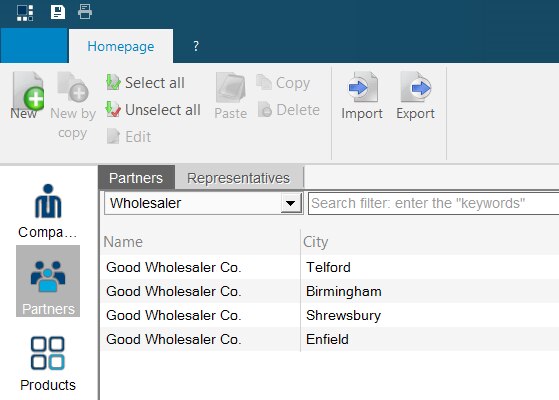 Adding contacts to customer and partner records
Adding people to companies records is always beneficial from a business perspective, and in hagercad.pro you get the additional benefit of including their names in template and automatically generated documentations produced by the software.
To create a contact:
Select the company record and click on the Representatives tab
Press the new button in the ribbon menu to start a new record
Enter information in to the record and then press the save button in the top left of the window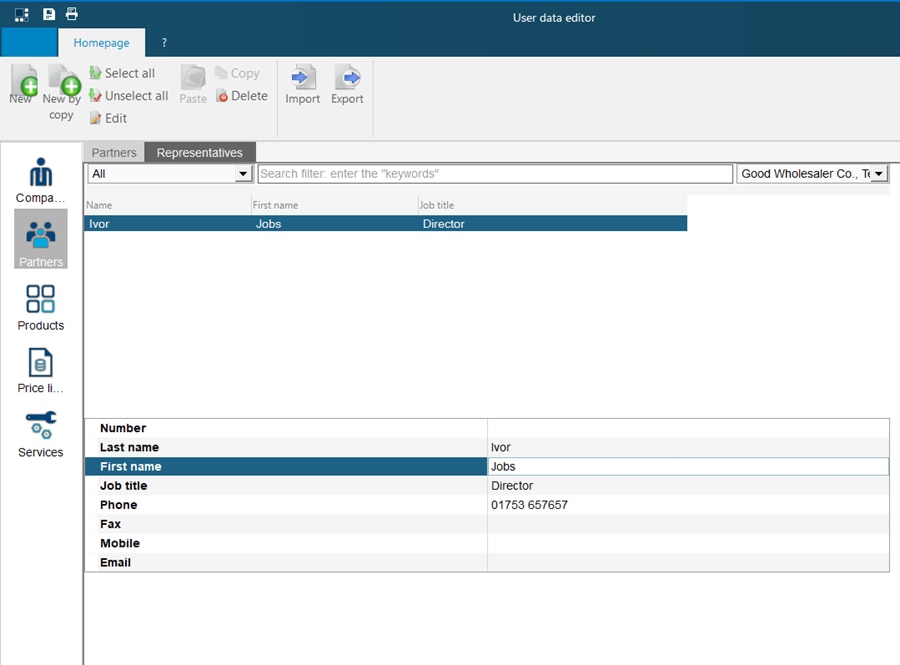 Exporting user information
Over time you might find you have add a lot of new information this section of hagerca.pro and either want to to back up the data or to share records with colleagues. Convenient options to Import and Export information stored in the User information section are available in the ribbon menu.

Exporting data gives you 3 options, selected records only, all records in the current section or all data from all sections.
Importing data is as simple as pressing the Import button in the ribbon menu and selecting a hagercad .hgu export file.