18th Edition of the Wiring Regulations
Paul Collins, our Technical & Training manager comments on what we are doing to help the industry prepare for the new 18th Edition changes.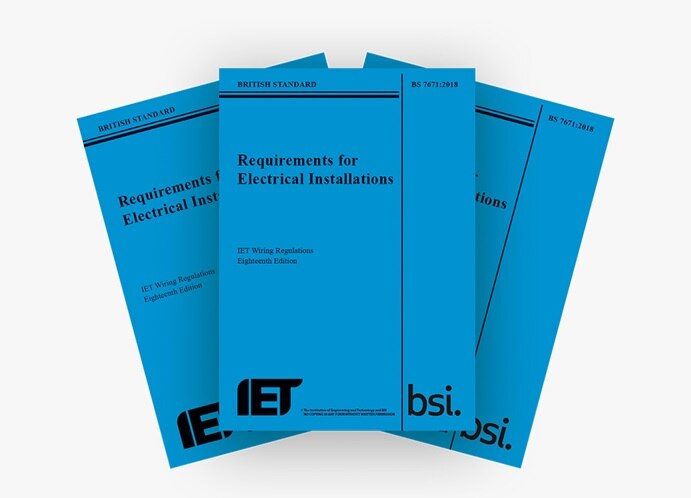 18th Edition Wiring Regulations | Comments from Our Technical Training Manager
The 18th Edition of the wiring regulations is now in effect. Are you ready?
"With the new IET Wiring Regulations that came into force on (1st January 2019), we understand many electrical contractors still do not feel ready for the mandatory changes. We've gathered feedback from across the industry and we continue to listen to electricians' concerns regarding the changes and, not all of them feel fully prepared for operating within the new regulatory landscape. In particular, a major area of concern is surrounding issues on surge protection.
"Following a well-publicised six-month period which pre-empted the arrival of the 18th Edition, it is clear more still needs to be done throughout the sector to support electricians to successfully navigate the new regulations."
Earlier this year, we launched its automated Chabot 'Reg' who has been busy answering thousands of questions and queries from the UK's electrical community as it looks for guidance on important areas such as product specification and installation methods. So far, the most frequently asked questions look at surge protection, overload protection of devices, the selection of appropriate Residual Current Devices (RCDs) and the selection of devices incorporated within an assembly. Chat with him today!
"Any electrical professionals who feel they need more support can access help and advice from Hager. Our online chatbot is an accessible source of easy-to-understand information, while our 18th Edition themed training courses held at our Telford HQ have already proven very popular in the run-up to 1st January. We will continue running the courses throughout 2019."
Our training Academy offers a number of training courses, accredited by City & Guilds, covering all the major changes in the 18th Edition. The short 18th Edition course offered, details crucial content to those in the electrical installation industry.
In addition, we have created an 18th Edition Hub that acts as a source of information and guidance through the latest changes to the 18th Edition of the Wiring Regulations. Our Hub includes the latest news and features on all the changes, how they will affect people in the industry and what can be done to prepare.
"Any electrical professionals who feel they need more support, can access help and advice from Hager."
Commercial Distribution Catalogue
In­cluded in our cata­logue are solu­tions for both com­mer­cial and in­dus­trial sec­tors as well as in­form­a­tion about our Hy­brid In­victa 3 TP&N boards, Pan­el­boards, Plug-in Meter­ing and more.
Have any questions or concerns? Send us a tweet and we will get back to you right away! Our twitter channel promotes the latest product information, links to our catalogues and brochures, and hosts several competitions through out the year.