Hager Academy: 1st Anniversay
There has been a large period of transition for the electrical industry during release of the new 18th Edition wiring regulations.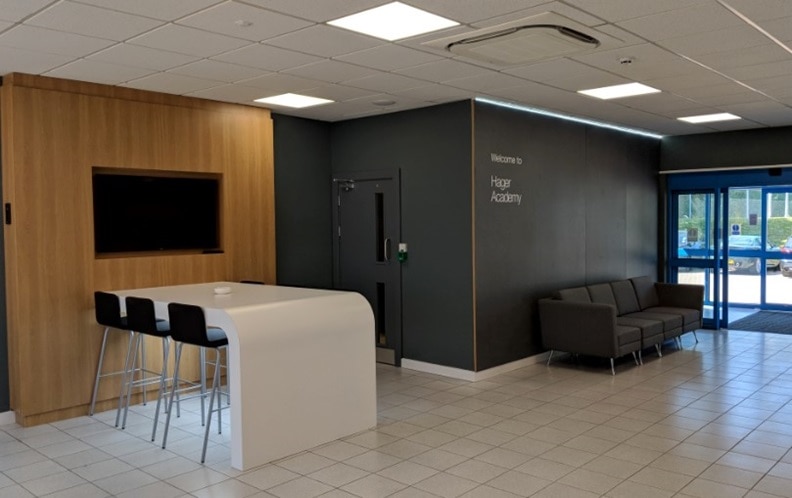 Hager's Training Academy Celebrates 1st Birthday
Through the transition of the 18th Edition of the Wiring Regulations, many electricians invested in 18th Edition training.
Hager's UK training academy, based at the company's Telford headquarters, has celebrated its first anniversary since its official opening in 2018. During its first year, the training academy has welcomed over 550 electrical contractors who have taken the opportunity to boost their skills and knowledge across a range of subjects, including the 18th Edition of the IET Wiring Regulations.
The interactive learning environment, which provides courses for both domestic and commercial installers, means attendees can immerse themselves in a number of technical subject areas to build on their knowledge and gain certification from City & Guilds accredited courses and seminars.The training sessions are led by Hager's expert training team, which is dedicated to supporting electrical professionals maintain the highest standards and better understand the changing regulatory landscape brought about by the 18th Edition.
Paul Collins Technical and Training Manager at Hager, comments: "The Hager training academy has proven really popular in its first year. The high demand for attendance at the training facility is testimony to the fact that many across the industry are keen to improve their knowledge and skills. The fact we've also managed to achieve a pass rate of 99% too is further proof of the dedication those working in the sector have for their profession.
"We have received many positive comments from course attendees about the training facility and how it provides a superb environment in which to learn. We look forward to welcoming even more electrical professionals over the next year."
For further information about the range of training courses available at Hager's training academy, including those specifically covering the 18th Edition, please go to: www.hager.co.uk/18thEdition.
"We look forward to welcoming even more electrical professionals over the next year."
Courses now available
Our range of bespoke designed training stations enable trainees to fully experience the hands on applications of each of our products.
Find a course