Hager­Gang Re­wards
Since the recent launch of HagerGang Rewards, the programme has seen continued success with an increase in sign-ups every week, giving elec­tri­cians the op­por­tun­ity to earn a host of re­wards. With every pound spent on our products, those who register for the pro­gramme will receive one point.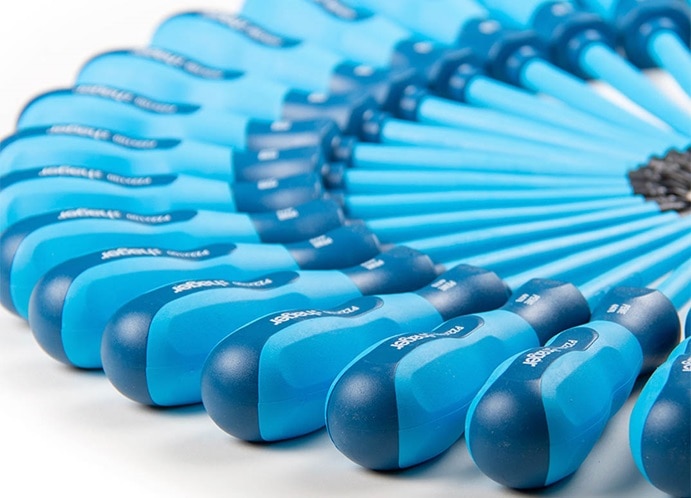 Re­wards Pro­gramme Con­tin­ues To Sup­port Elec­tri­cians
The months fol­low­ing our re­cently launched loy­alty re­wards pro­gramme has seen ma­jor suc­cess. With sign-ups in­creas­ing every week and more elec­tri­cians us­ing their hard-earned points to re­deem re­wards, the pro­gramme has provided us with an en­ga­ging way to con­tinue to sup­port our cus­tom­ers.

Hager­Gang Re­wards is avail­able on­line at hagergangrewards.com, and builds on the suc­cess of the #Hager­Gang - our thriv­ing so­cial me­dia com­munity. The new re­wards pro­gramme aims to show ap­pre­ci­ation for loyal elec­trical con­tract­ors who pur­chase our products reg­u­larly for their pro­jects.

With every pound spent on our products, con­tract­ors will earn 1 Hager­Gang Re­ward point. The points can then be col­lec­ted and re­deemed against a range of re­wards and of­fers that in­clude blue screw­drivers and more.

Elec­tri­cians can also earn points through monthly so­cial me­dia com­pet­i­tions. 'In­stall of the Month', not only give con­tract­ors a chance to show their fant­astic work but the pop­u­lar event on Twit­ter will re­ward the win­ner with 2,500 points to re­deem against items from the on­line cata­logue.
In ad­di­tion, those who have re­gistered with an ac­count can look for­ward to new ad­di­tions be­ing ad­ded to the on­line re­wards store every month. Since the winter months are ap­proach­ing, we have re­cently ad­ded some winter es­sen­tials such as a beanie, buff, ice scraper, and #Hager­Gang hoodie.

Ian Smith, our Mar­ket­ing and Sup­port Ser­vices Man­ager, says: "We ap­pre­ci­ate that times have been tough for elec­tri­cians re­cently and we are very ap­pre­ci­at­ive of the con­tin­ued loy­alty many have shown to Hager. To re­cog­nise all elec­tri­cians that con­tinue to use our products, we wanted to give something back and Hager Gang Re­wards is our way of do­ing so.

"Every Hager product pur­chase made via a whole­saler gen­er­ates points that can be re­deemed quickly and eas­ily on­line. Sign­ing up is easy, so con­tract­ors can start earn­ing points straight away to get their hands on some of the great re­wards we have on of­fer."

To sign-up for and re­deem Hager­Gang Re­wards visit hagergangrewards.com
Create Your Account
Simply sign up today, upload your receipts or invoices of your latest Hager purchases to earn points and redeem those points in the rewards shop.